We put the Apple iPhone 14 Pro through our rigorous DXOMARK Camera test suite to measure its performance in photo, video, and zoom quality from an end-user perspective. This article breaks down how the device fared in a variety of tests and several common use cases and is intended to highlight the most important results of our testing with an extract of the captured data.
Overview
Key camera specifications:
Primary: 48MP sensor, 24 mm equivalent f/1.78 -aperture lens, second generation sensor-shift OIS, Dual Pixel AF
Ultra-wide: 12MP sensor, 13mm equivalent f/2.2-aperture lens, Dual Pixel AF
Tele: 12MP sensor, 77 mm equivalent f/2.8-aperture lens, OIS
HDR video recording with Dolby Vision
A16 Bionic chipset
With a DXOMARK Camera score of 146, the Apple iPhone 14 Pro is the best iPhone we have tested to date and places itself among the very best phones in our ranking. It is extremely reliable, producing repeatable image and video results in all conditions, and shines particularly in portrait photography and videography, thanks to high levels of detail and very nice skin tone rendering, as well as excellent autofocus tracking in video.
While — at least on paper — the 14 Pro´s camera hardware might not look quite as impressive as the components of some competitors, such as the Samsung Galaxy S22 Ultra or Honor Magic4 Ultimate, it's fair to say the Apple engineers have managed to squeeze a lot of image quality and performance out of it. This is the first Apple device with a Quad-Bayer image sensor, and it's been used not only to improve image quality at the primary camera's nominal focal length, but also to provide high-quality seamless zooming up to a 3x tele factor where the dedicated tele kicks in. The iPhone 14 Pro also takes over as the best video recording phone from its iPhone 13 Pro predecessors. In combination with the other improvements, this makes it one of the currently very best options for mobile image makers.
Please note that throughout this article we compare the Apple iPhone 14 Pro to both the iPhone 13 Pro and 13 Pro Max, which achieved identical results in last year's tests.
Friends & Family
Friends & Family is a new use case score, introduced with the latest version 5 of the DXOMARK Camera test protocol. It has been designed to represent the test device's ability to capture technically good photos and videos in the most common consumer use cases (family, friends, pets). It is computed from data recorded during those Photo, Zoom and Video tests that include people and moving subjects, a total of 60+ scenes both in the lab and real-life scenes with models.
The iPhone 14 Pro achieves a Friends and Family score of 140, the high for this category. It is a great device for taking pictures of activities with friends and family. Zero shutter lag being available in most conditions means that the camera is capable of capturing the decisive moment. It is also very good at minimizing motion blur on moving subjects and offers excellent skin tone rendering as well as contrast on faces. In addition, the iPhone 14 Pro does a great job at tracking people in video mode. It´s also the best device for Bokeh we have tested to date, allowing you to shoot portraits of your loved ones that feature a natural-looking background blur, very close to what you would expect from a DSLR and fast lens.
Low Light
Like Friends and Family, Low light is a new score introduced with the latest update of the Camera test protocol. It is designed to represent a device's ability to capture technically good photos and videos in the most challenging light conditions. It is computed from data recorded during those Photo, Zoom and Video tests that are undertaken at light levels below 50 lux.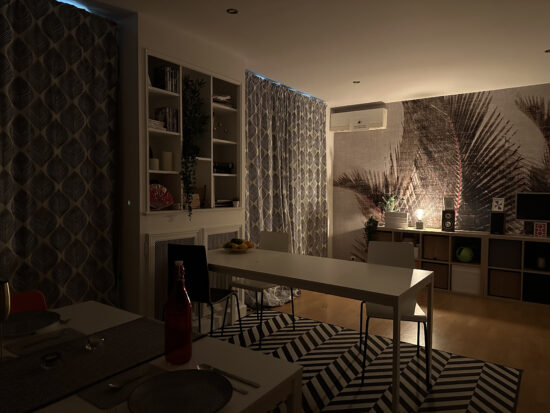 The iPhone 14 Pro achieves a score of 113 for the Low Light use case, but this is not where the new iPhone 14 Pro shines the most. Even when the camera exposes the scene well (night mode is triggered automatically) shadow clipping can occur, fine detail is lost and some grain can be noticeable.
Test summary
About DXOMARK Camera tests: DXOMARK's Camera evaluations take place in laboratories and in real-world situations using a wide variety of subjects. The scores rely on objective tests for which the results are calculated directly by measurement software on our laboratory setups, and on perceptual tests in which a sophisticated set of metrics allow a panel of image experts to compare aspects of image quality that require human judgment. Testing a smartphone involves a team of engineers and technicians for about a week. Photo, Zoom, and Video quality are scored separately and then combined into an Overall score for comparison among the cameras in different devices. For more information about the DXOMARK Camera protocol, click here. More details on smartphone camera scores are available here. The following section gathers key elements of DXOMARK's exhaustive tests and analyses. Full performance evaluations are available upon request. Please contact us on how to receive a full report.
In terms of still image quality, the iPhone 14 Pro is quite close to last year's 13 Pro Max, especially in bright light and landscape shots. However, it does come with some notable improvements, particularly in more challenging light conditions and high-contrast scenes. For example, in backlit scenes improvements are noticeable for all attributes. In the color category, skin tones are more accurate in difficult conditions. In terms of exposure and contrast, the new model is less affected by a loss of contrast and an increase in detail is very noticeable on faces in portrait scenes.
The iPhone 14 Pro offers full resolution 48MP RAW capture, a feature that is likely to please enthusiast photographers. However, we do not evaluate this mode as all our testing is done using the camera app's default mode. All HEIC files captured have been converted to JPG format for this review.
Close-Up
Close-up is the third new use case score introduced with DXOMARK Camera version 5. It evaluates the camera's ability to capture detail at subject distances below 10cm and magnifications as close possible to 1:1.
The iPhone 14 Pro offers excellent close-up capabilities. Detail is excellent, especially at close subject distances. Macro mode does not have to be activated. A close subject distance is detected automatically, making for a seamless user experience. For macro mode, the device switches to its ultra-wide camera which is capable of focusing very closely and provides great detail at the center of the frame.
The 14 Pro delivers good subject exposure in all conditions, with improved contrast over the 13 Pro. Dynamic range on the other hand is still slightly limited when compared to the best in class, for example the Honor Magic4 Ultimate. In low light, our testers also observed some shadow clipping.
In this difficult backlit scene, the iPhone 14 Pro manages accurate target exposure and a fairly wide dynamic range. Contrast is very good on both faces as well. On the 13 Pro Max, we can see some limitations in terms of noise, detail, and color rendering on the subjects. The Honor Magic4 Ultimate offers a wide dynamic range with better highlight retention, but strong contrast issues are noticeable on faces, especially dark skin tones.
The improvements in terms of contrast are also noticeable in this indoor scene.
In low light, the latest iPhone captures nice exposures but compared to the best devices, dynamic range is slightly more limited, in both the highlight and shadow areas of the frame.
White balance is generally accurate. In low light, an acceptably warm cast is in line with user preferences. Compared to the iPhone 13 Pro Max, color rendering has been improved, especially in terms of skin tones, which are now more accurate. Portraits are generally very nice with some of the best skin tones we have seen.
The excellent and improved skin tone rendering is also visible in this sample.
Color is not perfect, though. When indoor lighting is mixed with daylight, images often show a yellow or slightly green color cast – in general within acceptable limits. On some occasions, like in the scene below, this can create a nicer color response than on the competitors.
The autofocus is fast, accurate, and repeatable. The zero shutter lag technology does a good job in all conditions, even challenging scenes, allowing for instant capture of the decisive moment. The phone's fairly large image sensor means that the depth of field is pretty shallow for a smartphone. This can make for a nice natural bokeh effect in close-up shots but also means that in group shots people in the background might be out of focus.
One of the purposes of this scene is to test the autofocus and shutter lag. The shutter button is pressed at exactly the moment the subject passes through the door frame. The position of the subject in the captured image illustrates the shutter lag.

This double portrait illustrates the differences between the comparison devices in terms of depth of field.
With the new model, Apple has made significant improvements in terms of detail. This is visible in lab measurements as well as in portrait images like the one below. This is one of the key strengths of the iPhone 14 Pro.
Improvements over last year's model are also noticeable in low light, but the Honor Magic4 Ultimate remains ahead of the iPhone in terms of detail in those conditions.

For the latest version of our Camera test protocol, we have developed a new metric to evaluate motion blur. This metric reveals the test devices' ability to capture moving subjects with good detail and evaluates how they manage motion blur. The measurement quantifies the perception of blur from a moving subject in the scene (the lower the better). It has a significant impact on the new Friends and Family score.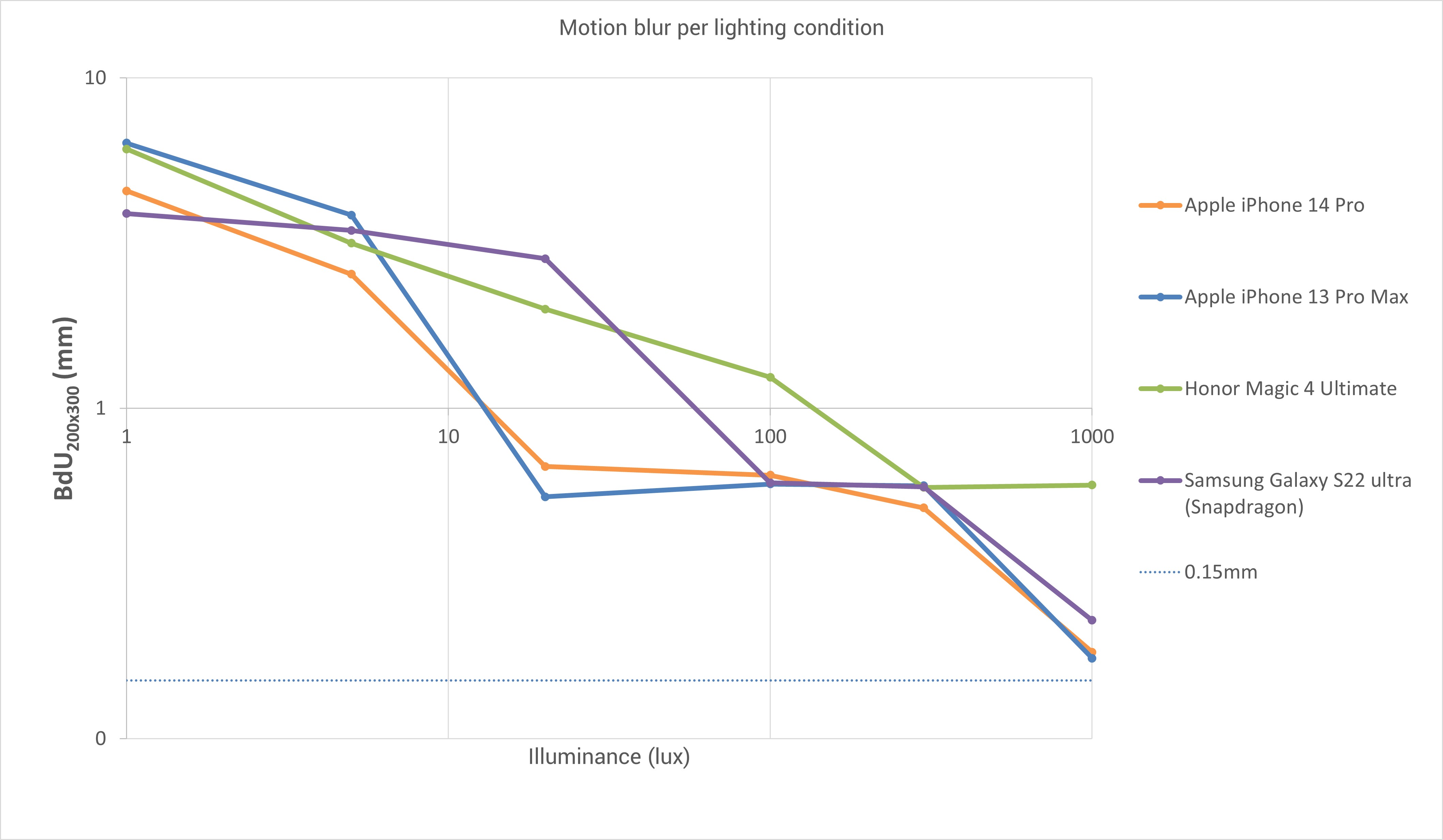 The motion blur measurements are confirmed by real-life scenes. The iPhone 14 Pro does well at capturing moving subjects from bright light down to low light conditions.
In bright light, especially in backlit scenes, the iPhone 14 Pro does well at controlling subject noise. In indoor scenes, such as the one below, noise is often noticeable in areas of plain color, sometimes more so than on the iPhone 13 Pro Max. Thanks to the increased detail, the texture/noise trade-off has overall improved on the new model but there are no improvements in terms of noise score. It appears the larger surface area of the new image sensor is mainly used to produce more detail while keeping noise at a similar level as before.
Under indoor conditions and in low light or night shots, noise is often visible on moving elements in the scene.
Despite overall excellent image quality our testers still observed some minor processing artifacts, including ringing, ghosting and color quantization.
Bokeh images show a high level of detail on faces, and the iPhone 14 Pro now comes with foreground blur for a more realistic overall effect, something that previous iPhone generations were lacking. Compared to the 13 Pro Max, segmentation artifacts are less visible as well.
The iPhone 14 Pro achieves a new top score for Preview, with a preview image that is even closer to the final capture than before. This is especially true for the bokeh effect in portrait mode. In addition, the switch between camera modules when pinch-zooming or using the on-screen buttons is smooth.
The iPhone 14 Pro comes with a dedicated 3x tele camera — same as last year — but in addition, it is making use of the Quad-Bayer sensor in the main camera for zooming. At a 1x zoom factor the camera works in standard pixel binning mode. Once you start zooming in, it switches to full-resolution mode, which allows for high-quality digital zooming and cropping until the tele camera takes over, providing a seamless zoom experience along the tele zoom range. The iPhone also does well for video zoom and comes with an improved ultra-wide camera with a larger image sensor.
Apple iPhone 14 Pro Zoom Scores vs Ultra-Premium
This graph illustrates the relative scores for the different zoom ranges evaluated. The abscissa is expressed in 35mm equivalent focal length. Zooming-in scores are displayed on the right and Zooming-out scores on the left.
Video Zoom
With the latest version 5 of our Camera test protocol, we introduced zoom testing for video. Several image quality attributes are measured for video zoom, and we include a detail preservation metric for several video zoom distances in our test results.
This graph shows the level of detail in bright light when using zoom-in video mode. The level of detail is measured at multiple focal lengths, including those that can directly be chosen via a UI button. The new iPhone offers consistently good detail from ultra-wide (15mm/0.5x) to medium range (3x) where the camera switches from the main to the dedicated tele module.

When shooting with the 14 Pro's ultra-wide camera, the level of captured detail is pretty high at the widest focal length setting. However, when zooming to just before the switch to the main camera, the iPhone 14 Pro shows a stronger loss of detail than the other best-in-class devices such as the Honor Magic4 Ultimate. The Magic4 Ultimate is capable of maintaining very good detail at the center of the frame at all ultra-wide focal length settings from 16-21mm.
When shooting at tele zoom settings the new flagship iPhone delivers good detail at close and medium range settings. However, detail drops somewhat off at long range.
Compared to the iPhone 13 Pro Max, the 14 Pro tele mode has improved significantly at a zoom setting of around 2x, just before the tele module activates. As you can see in the detail preservation graph above, the new model does not have the same drop in detail around 2x as its predecessor, and the level of captured detail is pretty consistent across close and medium range. This is true for all light conditions.
Compared to the Honor Magic4 Ultimate, the level of detail at the center of the frame is generally lower, but there is no significant drop of sharpness towards the edges. The Honor offers noticeably better detail at the center, but towards the edges detail is much lower.
Some improvements over the 13 Pro Max are also noticeable at long range (>150mm) but, like at close and medium range, the Honor Magic4 Ultimate still offers the best detail and texture/noise trade-off.
The Apple iPhone 14 Pro achieves a new top score for video and has improved over the iPhone 13 Pro generation in all video attributes. Video tests were undertaken at 4K resolution and 30 frames per second, with Dolby Vision activated.
The new iPhone takes over the top score for video exposure from its predecessor, offering a wide dynamic range and smooth exposure transition in most conditions. Like previous iPhones, the 14 Pro comes with HDR format video that offers high contrast capabilities that allow for a more natural rendering of HDR scenes than most competitors. Excellent tuning means the iPhone shines in terms of exposure, including highlight and shadow detail retention, as well as contrast across the entire tonal range.

In this HDR format video, you can see the iPhone's high contrast level in the sky. In this area, the tonal transitions are more natural than on the competition, and detail is preserved even in both the brightest and darkest parts of the scene. In comparison, the Honor suffers from highlight clipping and tone compression. Please note: YouTube only displays the original HDR rendering if videos are watched on a compatible HDR screen. Otherwise, a compressed SDR video is displayed.
Exposure is very close to the iPhone 13 Pro Max. Both achieve good target exposure, with a wide dynamic range and high contrast across the entire tonal range. In comparison, the Honor Magic4 Ultimate does worse in terms of contrast and dynamic range, with more highlight and shadow clipping.
In bright light, white balance is neutral, and transitions in changing light conditions are smooth. Compared to the 13 Pro Max, the new model is slightly improved.
The iPhone 14 Pro also performs very well for color in low light. Being slightly warm, white balance matches user preferences in these lighting conditions perfectly. Skin tones are generally fairly accurate, and color rendering is pleasant, even in difficult light.
Video autofocus offers excellent tracking capabilities, following faces in the frame very well. Focus transitions are smooth from the closest focus distance to infinity.
The DMC graph shows detail measurements for the 14 Pro that are very close to the previous iPhone generation in bright light and indoors, with a slight improvement at low light levels around 5 lux. Details are preserved well across the entire tonal range, from shadows to highlights.
Noise management is one of the 14 Pro's biggest strengths. Both temporal and spatial noise are well under control in almost all light conditions. In the shadows, our testers notice some improvement over the 13 Pro Max, and overall, the 14 Pro's texture/noise trade-off is excellent and among the best we have seen.
Camera motion is dealt with very well, and the 14 Pro comes with one of the best video stabilization systems we have tested to date. Both high- and low- frequency motion is compensated for well, from "normal" handheld shooting to running while recording.

The iPhone suffers mostly from standard video artifacts, such as maze, aliasing or flare. A 30/60 fps variable frame-rate, which is available on many other top-end smartphone cameras, would have been useful for a good noise/detail trade-off in low light and for avoiding judder effects when panning the camera in bright conditions.